What is Web Conferencing?
A Web Conferencing service enables you to conduct online meetings, lectures, presentations, training, and conferencing, specifically via IP (Internet Protocol) connections.
It refers to a collection of technologies that lets users make calls through an online service available on the internet, or you may also make it possible with the help of already installed software onto a computer or device. 
Why Do We Use Web Conferencing?
Web conferencing comes with many benefits. Because of the meetings it facilitates, it helps a lot in the office. There are many other benefits we will discuss here one by one. 
Meetings Held Remotely
Web conferencing allows its users to hold meetings remotely. It is easy for everyone to use. 
Bring People Together at One Platform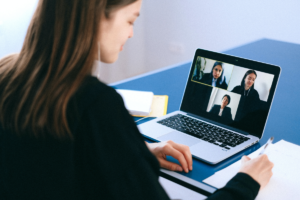 No matter if you're from another city or country, it unites you all. It connects people via one platform. And with its help, they can share or exchange views with ease.
And it doesn't matter if you're a tech geek or not. You'll find your area of interest with ease.
Easy to Access 
It is accessible to all. All you need is a device like a mobile, laptop, or tablet with a good speed internet connection. Now you are ready to join a web conference.
Save Expenses
It saves your expenses like travel costs or hi-tea that is a must part of in-person meetings. Moreover, it does not create exhaustion because it eliminates the headaches related to travel. 
Difference Between Web Conferencing And Video Conferencing.
Many people take both these terms as the same mistakenly. But these are not the same. There is a slight difference between them. We are going to unveil those minor differences. 
Video Conferencing
As the name shows, we can make a video conference, hold a video meeting, make a video call and presentations. We can use it for office work and personal purposes.
Web Conferencing 
It can be a video or audio. We use it for several purposes, such as online meetings, conferences, presentations, and lectures.
Main Aim
Video Conference: You can talk with friends and family. The experience is similar to live communication.
Web Conference: People who are distant at part can share content by giving presentations or sharing slides.
Number of Participants
Video Conferencing: Two or more people can connect, but usually limited people have access to it at the same time, depending on the capacity of the server.
Web Conferencing: Unlimited people can access it at any time.
Broadband Internet Connection
Video Conferencing: Not mandatory
Web Conferencing: Mandatory 
Area of Application
Video Conferencing: For occasional or regular meetings, general discussions.
Web Conferencing: For official purposes like training, lectures, and conferences. 
Video Quality of Participants
Video Conferencing: No compromise on the quality of the video. Quality is up to 4k or full HD.
Web Conferencing: Video is optional in this. And that is why quality does not matter to it. 
Best Web Conferencing Softwares
Everyone wonders which software is the best for web conferencing. Here we are going to discuss some best software. It will definitely be of great help to you in finding the best software for your devices.  
Zoom Meetings
Zoom is the # 1 platform for connecting with people. It comes with many features, including audio, video, and a separate chat room. It allows its users to record the meeting. 
One can easily access it through mobile phones, PC or tablets. Click on the link and you are ready to enter the meeting.
Its free version and paid version both are available. In the paid version, you can enjoy advanced features. 
Microsoft Teams
Microsoft Teams is one of the best software for web conferencing and video conferencing. We can use it for several purposes such as online meetings, training, and lectures. 
It brings people together having different identities. Everyone can share his point of view here. There is a separate chat room available. It makes it easy for people to connect during meetings and apart from conferences and meetings. Chat option is always available.
Google Meet
Meet – Google is among the top software for bringing people together on one platform. It is a secure method to connect with others. You can set a reminder of your upcoming events. 
Everyone has access to it without charge. You can make a video call with no time limitations. It is free of cost.  
GoToMeeting
It is among the leading software for web conferencing and makes connections with different people. GoToMeeting comes with many features, including enhanced audio, HD video, and the latest security system.
It has no free version. You can choose a professional version for only $12. And a business version for $16. Both versions allow 150 participants at a time. Now it is easy to conduct video conferences. Additionally, you can enjoy web conferencing to its fullest.