The outbreak of the coronavirus has crippled many economic sectors leading to an unprecedented financial crisis. This has left many people on the brink of plunging into a financial crisis. However, with an excellent economic crisis mitigation plan, you will overcome these times without a struggle.
Since most banks are closed because of the restrictions of movements, there are many personal finance apps that can help you manage your financers properly. However, choosing the best app can be tedious because they are too many. Here are 6 personal finance apps that can help you manage your finances better.
1. Spendee
This personal finance app is best for nuclear families since they have a shared account feature where two people can access one account. This makes finance management easier and transparent for both parties.
Moreover, you can set your budget on spending, and you will get a notification when you hit it.
2. Mint personal finance
Another great app you can use for your personal finance is Mint. It's one of the most popular apps and for good reasons too. With Mint, you can link your debit and credit cards. Once you do this, the app shows you how you are spending your cash by pulling your transaction.
You don't have to stress about hurting your credit score by overspending. Mint has got you covered as the app allows you to access your credit score. You can also manage your utility payments using the app.
3. Personal Capital
With the personal capital app, you can access all your financial portfolios in one place. You get to see your:
● Assets
● Liabilities
● Your net worth
● All your financial accounts
Another great feature of personal capital is that it has an array of investment tools. These tools are critical in helping you grow a healthy portfolio. Through the app, you can also schedule a consultation with a financial advisor, at a fee, of course. Similar to Mint, the app has an expense tracking feature. With the expense tracker, you are kept abreast of your daily, weekly, and monthly expenditures.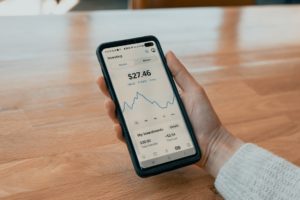 4. Money Lover
Despite its somewhat unusual name, Money Lover is another excellent personal finance app. The app offers awesome budgeting and expense tracking features. You can either get the paid or free version. The paid version obviously provides more features.
The best feature this app offers is that it allows you to manage your loans and debts. Do you use an Android phone and a Mac PC? No problem, you can synchronize the app across platforms. This means you can use the app on your Mac PC as well as on your Android phone.
5. Spending tracker
Another super option, especially if you want to keep your spending on track, is Spending Tracker. The app does not only track your spending. It also generates your spending reports and summaries according to the category. Another great feature the spending tracker offers is its simplicity. The app is not complicated thus very easy to use. You can get weekly, monthly or yearly reports.
6. Every dollar
Another great personal finance is every dollar. The app is so named cause it helps you budget for every dollar. It allocates every dollar to a purpose in the budget. With the app, you can track your expenses and see any cash you have leftover to spend. Every dollar is available on both desktop and mobile platforms. Similar to personal capital, you can use the app to consult a personal finance expert.
Managing your personal finance is an essential aspect of your life. It would help if you had the financial discipline to manage your finances. Thanks to technology, that task has become much easier. Using the above-stated apps, you can not only monitor your expenditure, but you can also budget your finances better.