The travel industry is one of the most hit sectors by the outbreak of COVID-19 virus. To minimize the spread of the virus, many governments introduced travel restrictions which made traveling even more difficult. Only the essential service providers like doctors, policemen and delivery people were allowed to travel.
Thanks to these rapid containment measures that have been adopted across the globe, the positivity rate has been on a constant decline and the restrictions are gradually being eased. However, social distancing and wearing of masks have been introduced to protect travelers from contracting the deadly virus.
Unprecedented times
The Coronavirus pandemic arguably the worst problem that the transport industry has faced in the past decade. Almost all airlines were grounded and some of them might never fly again because of the losses incurred during this period. Buses and trains were also not operational.
Since the easing of the lockdown restrictions, most people are finding it easy and safer to do private traveling plans. For instance, even though it is safer and cheaper to use public means of transport, most people now prefer using private means.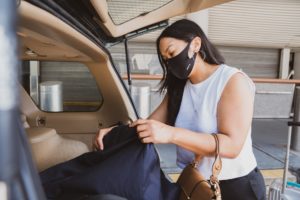 Travel and technology
The internet has also significantly impacted the travel industry. In hotel rooms, there is an option to control all sorts of things via an app; smart rooms allow you to change the temperature or connect to the room so quickly. It is now even easy for flight passengers to locate their baggage via a link on their boarding passes. It was introduced recently by Lufthansa, and this is something other airlines can adapt to. This offers passengers confidence because they will know where their bags are all the time.
Use of robots
The idea of robots serving you your drinks in a hotel is no longer stories in developed parts of the world because they are now practicing it. Robots can now do man check-in desks out of hours. Automation is also making the booking experience easier than ever. Chatbots are primarily used by travel companies to answer customer questions and to offer quality deals that meet customer needs. Smart Chatbots contribute to how the travel and tourism industry is adopting artificial intelligence and all it can provide to the customer.
Artificial intelligence is increasingly becoming popular
Recognition technology is making its way into airports and travel hubs today. In an airport today, you will use a face recognition system to make your way through passport control to scan your face and match it to your passport. This technology offers a safe and first way to check a person's identity as they enter a country.