Your down payment plays a vital role when you're looking to get a mortgage to buy a home. However, you might be wondering how much money you'll need for a down payment if you're considering buying a house. As a first-time homebuyer, it's normal to be scary when writing out that massive check for your down payment. In this post, we'll be demystifying the ins and outs of the mortgage down payment so you can tackle your home purchase process with confidence.
What Is A Down Payment?
A down payment is an up-front payment you give to a home seller through a mortgage to lock in the home purchase deal if you can't pay for the house in full. The lenders require a minimum down payment to approve you, the buyer, for a home loan. The remaining money you owe on a home purchase is paid through the mortgage loan. The lender sees a down payment as proof that you're committed to buying the home.
How Much Down Payment Do You Need?
Trying to know how much money you need for a mortgage down payment can feel overwhelming. For most people, a large down payment isn't necessary. Your down payment depends on your financial profile, your budget, and the loan programs you qualify for, and the price of the home you're looking to buy.
It's helpful to know what to expect from various mortgage lenders to determine how much you will need for a home down payment.
Conventional Loan
Fannie Mae or Freddie Mac requires a 5 percent minimum down payment for a conventional loan, with the loan amount not more than $417,000. However, you can get a down payment as low as 10 percent if the amount is larger than $417,000. However, some mortgage lenders may offer conventional loans with just 3 percent down payments.
FHA Loans
Federal Housing Administration gives out FHA loans, which is part of the U.S. Department of Housing and Urban Development. FHA loans are often an excellent choice for buyers that want to make a low down payment. The minimum down payment for this type of loan is 3.5 percent.
VA and USDA Loans
The U.S. Department of Agriculture backed VA and USDA loans, and the U.S. Department of Veterans Affairs guaranteed them. The VA loan is open to U.S. military veterans and active-duty military personnel, among other groups, and doesn't require a down payment.
USDA loans are available in rural and suburban areas. The USDA loan also has a zero-down payment, and loan programs are guaranteed for specific rural areas.
Determining How Much Down Payment You Need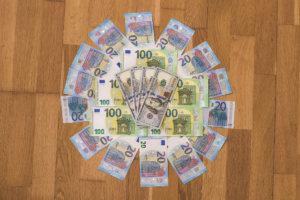 You can follow the tips below to determine how much home you can afford and the amount of money you can put down:
Review your budget
You need to evaluate your budget to determine how much you can afford to spend. Ask your mortgage lender about how much of your pre-tax income you should spend on getting a new house.
Assess your needs
Determine what you need from the house. You need to anticipate the stage of life you're in right now and what stage you'll be moving forward to while in the house.
Consider your options
You need to take your time to save for a larger down payment and look for a mortgage lender option that allows a smaller down payment after reviewing your budget and assessing your needs.
What Down Payment Do You Need?
While most homebuyers make a down payment below 20 percent, it's best to put at least a 20 percent down payment when ready to buy your home. The less you borrow, the less money you'll pay in interest. The more your down payment, the safer it is for mortgage lenders to offer you a favorable interest rate.
If you can afford to pay a 20 percent down payment, lenders will see you as a much safer investment. You will avoid paying private mortgage insurance, also known as PMI. If you put down less than 20 percent, the mortgage lender may require you to pay private mortgage insurance, which would be included in your monthly payment.
In Summary
Experts recommend that you make a down payment of 20 percent of your new home's value. This benchmark will get you more favorable loan terms and interest rates. However, you don't need to stress yourself if you don't have enough funds for a large down. Some mortgages accept low down payments, but the interest rate might be high. Regardless of how much down payment you can afford, make sure that you don't overpay for a mortgage.